TJ Alliance- Origins and Vision
Both Taiwan and Japan are facing the same problems of an aging population, a shrinking birth rate, an exodus of people from non-urban areas and ongoing disparities between urban and rural development. In Japan, the Cabinet Office (CAO), which is tasked with administering regional policies, has established the "Office for Promotion of Regional Revitalization" to create an environment conducive for young people to start families and establish meaningful careers, so that the population can flow back into the local area. Local universities, which nurture employable talents, have become an important mechanism to assist the government in cultivating local public affairs talents and incubating regional revitalization. The Higher Education Bureau, Ministry of Education, Culture, Sports, Science and Technology (MEXT) of Japan published policy papers in 2017 titled "Regional Revitalization with Local Universities as a Foundation," which drew attention to the trend of young people concentrating on ten major urban areas, such as Tokyo. The government therefore established the "Local University and Regional Industry Revitalization Grant" which is a collaborative effort between local universities and private organizations to find viable solutions for contemporary social issues with universities as Centers of Community (COC).
Faced with similar social problems in Taiwan, the Ministry of Science and Technology officially kicked off the "Humanities Innovation and Social Practice Program" in 2013, which focuses on regional practices, hoping that universities can, from the perspective of local thinking and needs, seek alternative economic and local development possibilities through close cooperation with local communities and organizations. In 2017, the Ministry of Education launched the "University Social Responsibility Program" (USR Program) to strengthen the linkage and cooperation between universities and local regions, so that universities can fulfill university social responsibility and cultivate students who can create value for local development. 2019 was the first year of regional revitalization in Taiwan, with central ministries, local governments, as well as private business owners and scholars and experts who are concerned about regional revitalization working together to jointly develop solutions to local social issues and needs.
Although the social structural problems faced by Japan and Taiwan seem to be similar, the ability to identify issues in its corresponding local context is the fundamental way to resolve them if we are to find viable solutions. In recent years, universities in both countries are approaching local talent cultivation and regional revitalization from different angles. Universities play the role of key implementors to investigate regional issues in depth and respond to the issues by combining teaching and research with a practice-based approach. In view of this, the formation and establishment of the "TJ Alliance of Local Revitalization and Social Practice" aims to create a concrete platform for exchange between public and private universities in Japan and Taiwan that are engaged in "regional revitalization" and "social innovation" and to promote academic and practical exchanges between universities in the two countries on research, program design and operational experience, curriculum development, faculty community and local network management related to local linkages and social practices. The Alliance aims to propose feasible solutions to important contemporary social issues and development dilemmas, such as an aging population, low birth rates, uneven development between urban and rural areas, local industry development and community building and to enable the exchange, refinement and dissemination of relevant research results and practical experiences through exchanges on the Alliance platform.
Alliance Members
Humanities Innovation and Social Practice Program
With increased globalization and competition, as society continues to pursue economic development, several social issues have emerged one after another, such as the gap between the rich and the poor, the destruction of ecological environments and the stagnation of democratic development. In contrast to the fields of science and biomedicine, which participates in economic production through technological research and development and industry-academia cooperation, the humanities and social sciences can propose effective solutions to the negative effects of global socio-economic development through conceptual innovation and social practice and even move enthusiastically to an innovative model with more concrete actions to maximize values of social welfare.
In 2012, the Department of Humanities and Social Sciences of the Ministry of Science and Technology (formerly the Department of Humanities and Social Sciences Research and Development of the National Science Council) made its first public solicitation for the Humanities Innovation and Social Practice Program, with the hope of exploring current social issues facing Taiwan from the perspective of humanistic concerns and academic research and innovation. Through issue research and social action program design, the program will highlight the contribution of humanities and social sciences to social reform and create a better-quality living environment through local practice and spotlighting of regional characteristics. At the same time, the program fosters universities to fulfill their university social responsibility, establish a diversified academic model and create the possibility of university reform and positive change.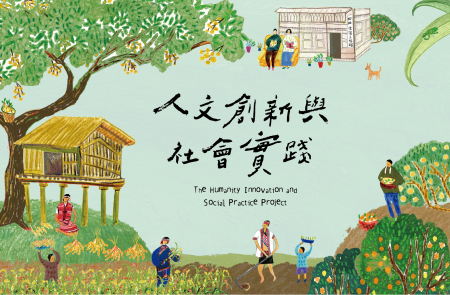 About the USR Program: Focusing on Social Issues and Achieving Sustainable Development through Practice
The Ministry of Education has implemented the University Social Responsibility (USR) Program, which focuses on local linkages, talent cultivation, international connections and other related issues, with the expectation that the USR Program will play an important role as a catalyst for university social engagement. The USR Program will encourage the use of professional knowledge and creativity to close the gap between theory and application, promote local identity and development, and move towards a vision of international integration.
The first phase of the program is already well underway with concrete results achieved, and it is expected that the second phase will continue to be fruitful. The Ministry of Education has also established the Center for University Social Responsibility as a platform to facilitate the overall development of the USR Program. It will continue to work with universities and USR program implementation teams from diverse perspectives to achieve USR goals and benefits. It is hoped that USR project teams will demonstrate their impact and contribution during the implementation of their respective projects and in turn achieve sustainable development in environmental, social and economic aspects.